Is snorkeling uncomfortable for you? Do you hate breathing through a tube in your mouth?
See and breathe underwater as easily as you would on land.
Start your snorkeling adventures with a full face snorkel mask. Easy to use and carry.
The natural breathing through your nose and mouth helps keep you calmer and more relaxed in the water. Great for everyone who wants to enjoy the Caribbean underwater world, especially beginners.

Never swallow any water while snorkeling. With the dry top design the floater functions as a barrier for water to enter the snorkel from waves and water ripples. How comfy!

No water coming into your mask due to the silicon mask skirt which seals your face with the mask. The drain valve will drain away water by raising up your head. Comfort and worry-free.

Fog resistant & Better View
Double air-flow channels help to eliminate fogging and makes breathing easier than ever. With a 180 degree viewing area, enjoy panoramic underwater scenery than ever before.
Why do people going crazy for this?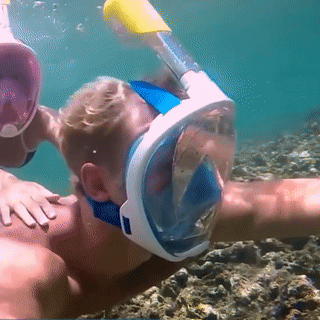 This is an innovative snorkeling mask (surface snorkeling) enabling you to SEE and BREATHE UNDERWATER just like on DRY LAND! Discovery of the underwater world becomes even more accessible.
To ensure that water does not enter via the snorkel, the our mask is equipped with a mechanism that plugs the top of the snorkel when immersed in water.
How to choose the right size?
Step 1: Measure the distance between nose bridge to bottom of the chin.

Step 2: If the distance is less than 13.5 cm or 5.2 inches, Choose S/M.
Step 3: If the distance is more than 13.5 cm or 5.2 inches, Choose L/XL.

Over 2000 customer used , love our massager and talk about us on over the world.
"These snorkel masks were amazing for our trip to the Philippines! We used them every single day for 2 weeks with only minimal issues. One strap tore, but that was just from user error more than poor quality. We just tied it in a knot and kept on going. You can see the photos are under water - they worked perfect for keeping water out when diving below the surface."

"Perfect! Great! We took these to Hawaii. I am a small petite girl and ordered both the small and the large. The small is much more suited for a little kid. I ended up using the large. We swam in the ocean every day and these worked great. Another friend also bought a mask off of another company just like this and ours worked much better than hers."


"I saw people using this on a recent trip to the beach here in Florida and I needed a new snorkel. I was happy to find the mask. It is the best mask that I've ever had due to the great feature of having the breathing tube built in and not having to worry about losing one piece from the other. It folds and is light and durable, so I am very happy and my son who uses it is happy too."